SEO or website optimization is one of the techniques to increase sales on the Internet that people are rarely familiar with, SEO among companies that have businesses on the Internet is a vital and very important thing because it can rank first in search engines in words related to their business, which is itself. It will make finding more customers.
Why can't search engines recognize your site without SEO?
Search engines are smart and are constantly trying to deepen their technology for web tracking and bring better results for users. However, there are limitations for search engines.
While proper SEO can increase thousands of your visitors and attract more attention, in case a wrong move can hide or bury your site in your search results and reduce visitor numbers.
In addition to making content available to search engines, SEO also helps promote rankings so that content is placed there that searcher will find it easier. The Internet is increasingly becoming a competitive market and those companies that act earlier for website SEO make them sell more than their competitors.
Website SEO should be done professionally by experts because otherwise, the site will be in trouble. So it is better to leave your SEO and website optimization to the professionals in this profession.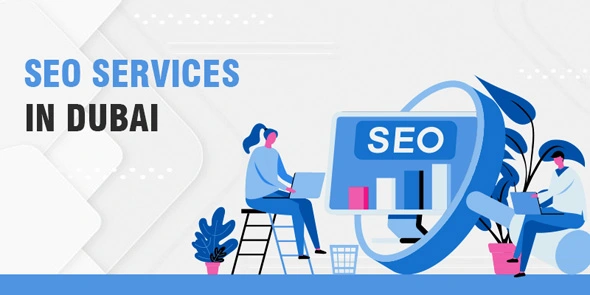 SEO friendly web design Dubai
Digitally Dubai Company is a reputable and experienced company active in the field of SEO and internet marketing.
Why do we need to SEO our website?
Search Engine Optimization (SEO), at its simplest, is the process of making changes to your website to make it more visible and improved for search engines and their site ranking.
But improving your SEO is not a simple process you want to keep in mind without a strategy. The best first step in developing your SEO strategy is to do SEO analysis.
What is SEO analysis and why is it important?
SEO analytics is an essential tool for studying people on how to improve the ranking of a given website in search engines like Google.
With SEO analysis you can see what aspect of your SEO strategy is working and what are the biggest obstacles preventing you from improving your site ranking.
Without a thorough SEO analysis of your site, it is impossible to make informed decisions to improve site rankings on pages, search engine results. Or is SEO essential? Yes, you can have the best website in the world, but you'll never see it on Google's first page if you don't have an optimized search engine.
SEO is now a great keyword in the world of digital marketing. Yet is this a big deal? In a word, yes, SEO is vital for growth in the modern business world.
Here are 7 reasons why SEO is important
1. Competitive field
With more than a billion different websites on the Internet, don't expect that number to drop in the future as well.
Creating a website becomes easier every year.
2. SEO fits the business set apart
Yes, this is a very competitive topic. However, many businesses do not yet take a tactical approach to SEO. Also, businesses may not necessarily do it properly.
SEO is a specialized exercise, not something you can learn overnight and apply without a strategy. If you leave your website design and website SEO to professionals, you will prepare yourself to advance your competition.
Using SEO helps you survive in your industry. Although you use it properly, But it helps you succeed.
3. SEO is affordable
SEO is great for all businesses for a variety of reasons. For starters, SEO offers a great return from an investment standpoint. Approximately 75% of marketers rate SEO as a great investment return.
The reason is that efficiency, good leads to higher quality. Instead of using old and expensive methods, SEO aims to attract customers who want to find your business. Overall, entrance fees result in a 61% lower fee of unique costs.
4. lose potential customers
The most common internet activity is checking emails and using a search engine. If your business is for one don't optimize from the most popular internet activities, you lose potential customers and revenue.
5. Diversify your customers
One of the main reasons for creating a website for businesses is to have more and more diverse customers. With a conscious focus on trying SEO, the likelihood that your business will be discovered by a new customer increases. As mentioned earlier, people who find your website are more likely more people than those who see TV ads.
6. SEO is constantly evolving
Like any other marketing tool, SEO changes are meant to meet market needs. It provides an opportunity for you to avoid other businesses.
In any particular industry, consumers' demands and preferences change day by day. As demand changes, companies need to adapt to new preferences.  The best way to avoid curves is to maintain a marketing plan as dynamic as it can change with demand.
7. Professional SEO and easy access
Your business website should search not only once, but also constantly. Constantly updating and optimizing your website makes it easier to access your site.
If you want to appear above your competition, it's best to SEO your site.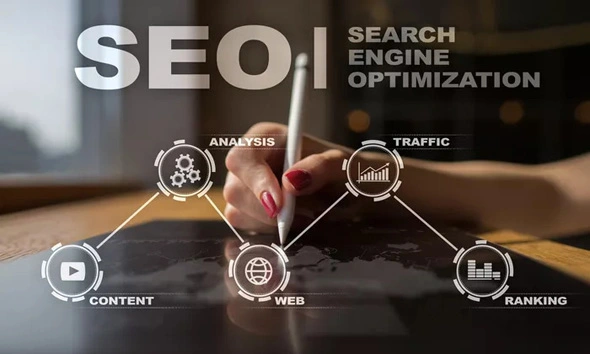 Is SEO necessary for your business?
In the following article, there are four reasons why website SEO is essential for your business:
1. Increase visit
Every day some people search for the products and services that your business offers, but do they know you exist? Without a prominent position in search engine results, your business doesn't have access to online audiences struggling to reach your products and services.
That's why in the first step, having a professional website design is an excellent step to gain more online market share, but website design alone is not effective and your website should rank well in search engine results so that your business can be seen in the online marketplace.
2. More traffic
The number of people using search engines every day is amazing. Google alone conducts more than 138 million searches per hour! If the site optimization is done correctly, SEO can add an almost endless stream of traffic to your website.
If the site optimization is done correctly, SEO can add an almost endless stream of traffic to your website. You have to remember that people are looking for things online on the day; it's just a matter of whether your website will be searched there or not.
3. Brand shelf life
Effective site optimization (e.g., somewhere at the top of the front page on Google) is of great importance for brand purposes. Many people do multiple searches, each changing a word or two to get something from what they use a search engine, when users constantly see your site in search results, it keeps your brand in mind.
4. Increase business credit
For most people, high search engine rankings are a sign of credibility. The general mindset of average users (whether it's a conscious thought or not) is that they trust the results Google delivers to them.
Those websites listed on search engine results pages are the ones that Google considered to be more relevant to your search so that it gives a certain amount of instant credit to your business.
An SEO specialist is responsible for monitoring the site and maintaining and upgrading the ranking in search engines. In addition, he has researched keywords, architecture and site design, competitive analysis, site link building, etc. has partnerships. SEO workers may also manage site content.
SEO is one of the main marketing methods because of its great impact. Although the benefits of SEO are very broad, in this article we are going to introduce the top 10 of SEO's main items in SEO Company in Dubai in the name of Digitally Dubai.
The outlook for online marketing has always changed in the past years, but SEO marketing has never been missed and has always been considered one of the most effective online marketing solutions.
Although SEO has many benefits for business owners, here we will address the most important things.
SEO costs less than Google ads and other PPC methods
With SEO services the site in search results is free. When your site is at the top of search results through SEO, you don't need to pay Google to get clicks from users. This is a gift given to your site through Google SEO. Due to a little effort and pay for not so much SEO, it is possible to increase the traffic of the site.
There is no need to pay multiple dollars per click from users. Also, unlike paid web ads, your site's traffic will not be reduced after the advertising budget is finished. SEO makes you free from the need for internet advertising.
SEO increases site traffic
Using statistic software, you can see a definite increase in site traffic after SEO. This method is one of the most useful ways to try to succeed the site. Positive SEO results are not immediately visible, but it doesn't take long to see.
The increase in traffic will be sustained and you can see it using the relevant tools. Increasing traffic will result in more users visiting the site and as a result, website sales will increase.
SEO increases your brand's credibility
Users trust Google's front page results and you can be included in this list using SEO. As a result, your brand is trusted by them. The lower your rankings in search results, the less trust users have in you.
If Google considers a high position for your site, your brand value and reputation will also increase. Ads are usually annoying and users don't pay much attention to them. Many users have also installed ad blocker software in their browsers so that they don't see ads.
SEO has more return on capital than traditional advertising
When you get 1,000 users through click ads, 2% of them may become site customers. But if the same number of users log in via SEO, 4% of them are likely to become customers. As a result, your return on investment will be higher with SEO.
The higher the conversion rate of the site is one of the advantages of SEO that is not comparable to other marketing methods. Google shows your site in the word you've SEO in search results. As a result, users who are looking for a product that you also own will see your site through Google.
Ads can be displayed anywhere and for anyone, and indeed many users don't pay attention to them. Introducing your site through Google is worth more than introducing through advertising methods.
Your competitors are also doing SEO
SEO is a field that is growing and more and more people are getting to know the benefits of SEO and site optimization. Your competitors know this and are doing SEO to take advantage of this method. As a result, they will enter the field earlier than you and get better ratings than you.
Even if your site offers better services and a more affordable price, Google will still give them all the traffic. Hiring a SEO company or employing a SEO is what you need to do to outperform your competitors.
SEO promotes your business class
SEO sends thousands of users to your site daily. This will likely require a stronger server to respond better to all requests. You may be faced with suggestions from users about the type of products you have and their needs. SEO is a big investment for your brand and is what you need to promote your business class.
SEO makes you stand out among the 250 million websites currently on the Internet
There are more than 250 million websites on the Internet and this number is increasing every day. It is certainly very difficult to stand tall among all these sites, especially if your goods and services are very competitive. With SEO, you can highlight your brand name among all these websites and easily increase your sales and revenue.
60% of clicks include Google's first result
This means that only 40% of clicks go to thousands of sites from the second result onwards. Putting the site in Google's initial results can result in thousands of users gaining thousands of views. SEO is a tool that helps your site to stay at the top of the search results and take advantage of this mode.
SEO increases your data
Using SEO you can obtain customer data. By using the words users search for and finding the most searched items, you can understand the needs of users and offer the products that fit them. This way you can identify the most searched words that are less competitive and add to your monthly sales.
Customer data in this industry is very valuable and not easily obtained. With SEO tools, you can earn it and take advantage of it by applying it to your business.
The results of SEO are memorable
Contrary to advertising methods, the results obtained from SEO remain. Unlike internet advertising, these results do not suddenly go away as funding is cut. Of course, it should be noted that you need to take steps to stay in the present results. But if you're in Google's top positions, other people won't be able to take it away from you easily.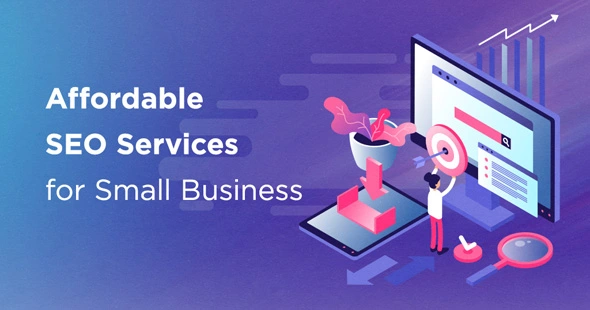 Why is affordable SEO important for small businesses?
Save almost 50% of your expenses.
Get all the benefits of SEO best practices.
Our goal is to help businesses like you get good ratings on Google without worrying about your marketing budget.
Now here's the thing:
You don't need a lot of backlinks and hundreds of pages for a higher ranking in search. For small businesses, traffic is second to important, but the quality of people visiting the site is the most important factor. The reason is that they are the ones who determine your ROI.
We implement the right SEO strategies for you. This means that we do not implement everything found in the SEO glossary. Because you don't need most of it.
We are not another agency that forces you to show up to us every month with your bank card! We first understand your business needs. This helps us to come up with a suitable strategy for ranking you in SERP. Do you know small businesses that are interested in ranking only for a specific location, do they just need a local SEO strategy for a higher ranking?
Most agencies try to ignore this aspect because there is a huge cost to implementing domestic or local SEO and international SEO strategies.
It takes small businesses a while to realize that the hard-earned money is spent on things that are of little value to their businesses adds.
SEO on-page services
In-page SEO services include optimizing several factors within the page on your website.
This includes the meta title, meta description, URL, and images. Google and other search engines have confirmed that on-screen factors are vital in ranking its algorithms. Please read our blog about On-Page optimization techniques to learn more about the strategies used by top SEO agencies.
The main factors involved in SEO on-page
Keyword Research
URL Optimization
Optimize title tag
Content Optimization
Optimize title tags
Optimization of internal and external links
The main factors involved in off-page SEO
Launch a link-building strategy
Competitor analysis
Blogger Outreach Manual
Repairing a broken link
Disable spam backlinks